Join in and get networked
As networking within the market is extremely important to success, take a look at kruellcom's network:

The Bundesverband Breitbandkommunikation e.V. [Federal Association of Broadband Communication] represents over 110 city and regional network operators within Germany.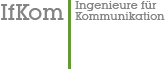 The Ingenieure für Kommunikation e.V. [Communication Engineers] is the professional association representing technical specialists and executives in the communication business.